Entrepreneur Zoom Communication Coaching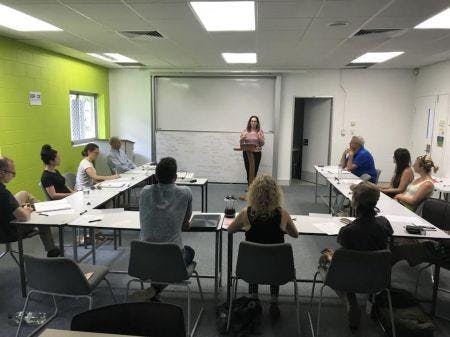 Image from eventbrite.com.au
---
Communication Coaching and Networking for Entrepreneurs and other Interested Parties.
Develop your confidence, network with other entrepreneurs and people who want to build their communication skills and be part of a group that energises you with ideas and passion.
Every Tuesday 12:30pm (Brisbane time) theSPACE has a weekly communication coaching session for entrepreneurs and people interested in improving their communication skills at theSPACE in Cairns Tropical Australia.
It is a chance to practice your pitch or a speech you are using to promote your business, or get feedback from the group on any presentation that you are working on. If you are joining online you can take a video of yourself speaking, make sure the audio is clear. Send Youtube video links to pitch@thaspacecairns.com 48hrs prior to your event.
You are welcome to join in person if you are in Cairns or via Zoom (your log in details will be sent to you.)

The Zoom session International time is
12:30pm to 1:30pm Brisbane time Australia Tuesday GMT+10
7:30pm to 8:30pm Pacfic Dailight Time Monday GMT-7
3:30am 4:30am London Time Tuesday GMT +9
Numbers are limited and break out rooms will be used for larger groups so as you get plenty of feedback and in depth discussion.
We always start with one or more of the following
"ASK." What do you need to get your idea or project accelerated
"Offer," What you can offer others to help them get going
"Idea," Have you got a great idea you would like to find someone to collaborate with, or
"Short Joke" Laughter produces endorphins which is a neuro connector and assists memory
Have it typed out so you can cut and paste into the chat section and others can connect with you.
We start with a quick introduction using a verbal business card and some personal details.
A verbal business card does not include your name or title, just what you do in less than ten words using alliteration or rhythm to make it memorable (Verbal Business cards thanks to Darren LaCroix). Make sure you have a verbal business card to test out on us.
(For myself) "I create confident communicators quickly"
(Financial Planner) "We train people to retire rich"
(Virtual Assistant) "I create freedom"
(Personal Stylist) "I help men get compliments"
It is all about having fun, understanding how to connect with your audience and networking with a diverse range of people across the world.
Cheers
David Burston
Pitch Master pitch@thespacecairns.com
theSPACE Website events page: http://bit.ly/EventsSPACE
Meetup page for news, tips and event reminders: http://bit.ly/MeetupSPACE Meetup is free to join
261 Views - 11/12/2019 Last update
---
Are you an event organizer?
Create events for free. They will be immediately recommended to interested users.
Create event
---
---
Event from
eventbrite.com.au
---
---
Are you an event organizer?
Create events for free. They will be immediately recommended to interested users.
Create event
Cairns

›

theSpace

›